During the game between the Milwaukee Bucks and the Dallas Mavericks, Giannis Antetokounmpo played exceptionally well. With a score of 125-115, the Bucks were successful in silencing the Dallas Mavericks. At the Fiserv Forum, where the match was played on Monday (28/11/2022).
Giannis Antetokounmpo had a double-double in the game that the Milwaukee Bucks played against the Dallas Mavericks. He played for an average of 29 minutes and tallied 30 points, 11 rebounds, and four assists per game. to the point where he ended up being the player who scored the most points. After that, Grayson Allen scored 25 points, and Jrue Holiday added 16 points of his own to the total.
Luca Doncic, a star player for the Dallas Mavericks, had some kind words to say after the game. Obviously, for the former player who won the MVP award twice. Doncic was impressed by Giannis's outstanding performance. Luca referred to him as the most talented player in the NBA.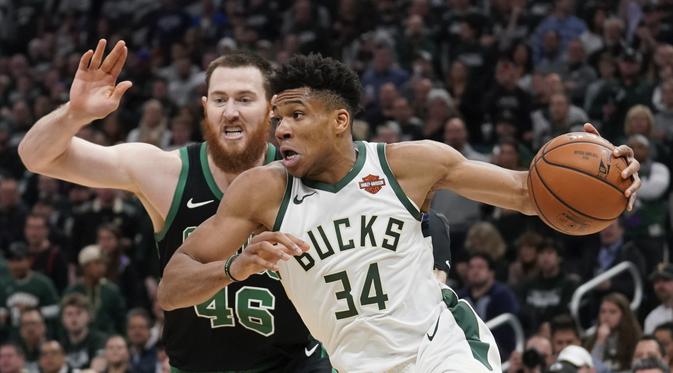 It's great to watch him play, but it's not fun to fight him, Luca Doncic was quoted as saying by ESPN. "It's hard to fight someone like that. He's the best player in the NBA right now. He's almost impossible to stop," said Doncic.
"He is getting better in so many different ways and getting better every day."
"He is working really hard, and it is obvious. Antetokounmpo is working on everything. He is working his shots."
In the meantime, on the other team, Luca Doncic of the Dallas Mavericks was the team's leading scorer with 27 points, 12 assists, and five rebounds over the course of 35 minutes played. In spite of the fact that he seemed to be in good health, he was unable to contribute significantly to his team's victory at the Bucks headquarters.
Bintang Milwaukee Bucks, Giannis Antetokounmpo, bermain luar biasa saat timnya Bucks membungkam Dallas Mavericks dengan skor 125-115. | 77577sports #77577sports #bucks #mavericks #bucksvsmavericks #lucadoncic #giannisantetokounmpo #NBA #NBAhighlights #basketball #milwaukeebucks pic.twitter.com/360YdCmeeH

— Star Ball (@starball_ID) November 30, 2022
Luca Doncic Extends His Praise And Appreciation To Giannis Antetokounmpo
Giannis Antetokounmpo expressed his gratitude to Doncic for the praise he gave him after the game. He also offered his own compliments to the Mavericks superstar. Because despite his team's loss, he still managed to put up an incredible performance.
Antetokounmpo was quoted as saying, "Being respected by your peers is always a good feeling, regardless of whether you win or lose," and he was referring to the experience of competition.
It's amazing what he can do for himself and his team, he said once more, adding, "I've always loved playing against the best players in the league." "He's an amazing player, an amazing talent. Arguably one of the most talented players I've ever seen in my life," he added.
Source:  https://ty.77577.live/